You'll always find a jar filled with quick cebollas curtidas, Mexican pickled onions in my fridge. It is a staple in my home, and we use it on tacos, salads, soups, tortas, sandwiches, and soups. We use them everywhere.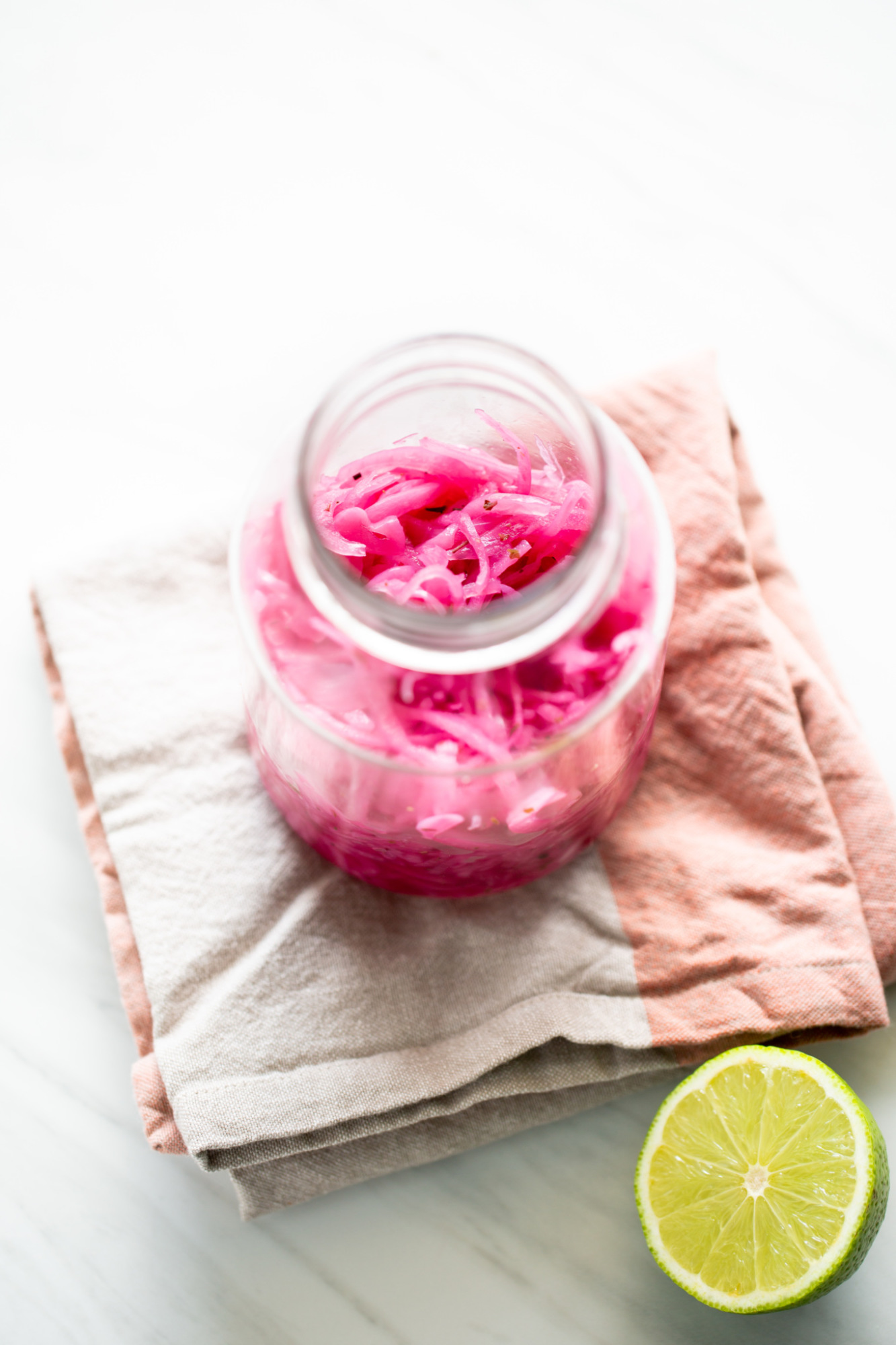 Why will you love this recipe?
Having a jar of these quick Mexican pickled onions is total peace of mind. I know it sounds NOT QUITE RIGHT … but let me explain. These pickled red onions have the power to transform every dish.
They transform it giving great texture, flavor-wise and visually. Great on tacos, salads, or as an accompaniment to any dish!
You may ask yourself, is eating pickled onions good for you? Of course! They are full of probiotics and digestive enzymes, critical for maintaining gut health.
When I'm preparing lunch for myself, I add some quinoa or rice in a bowl, add some beans or lentils, greens, some dressing, half an avocado, and top it all with some onion slices. And… BAM!!! Without any effort, I have a magical and fantastic lunch.
These quick pickled red onions are a must for cochinita pibil tacos, tacos dorados Sinaloa style, and many more authentic Mexican dishes. In Spanish they are called cebollas encurtidas or cebollas en vinagre.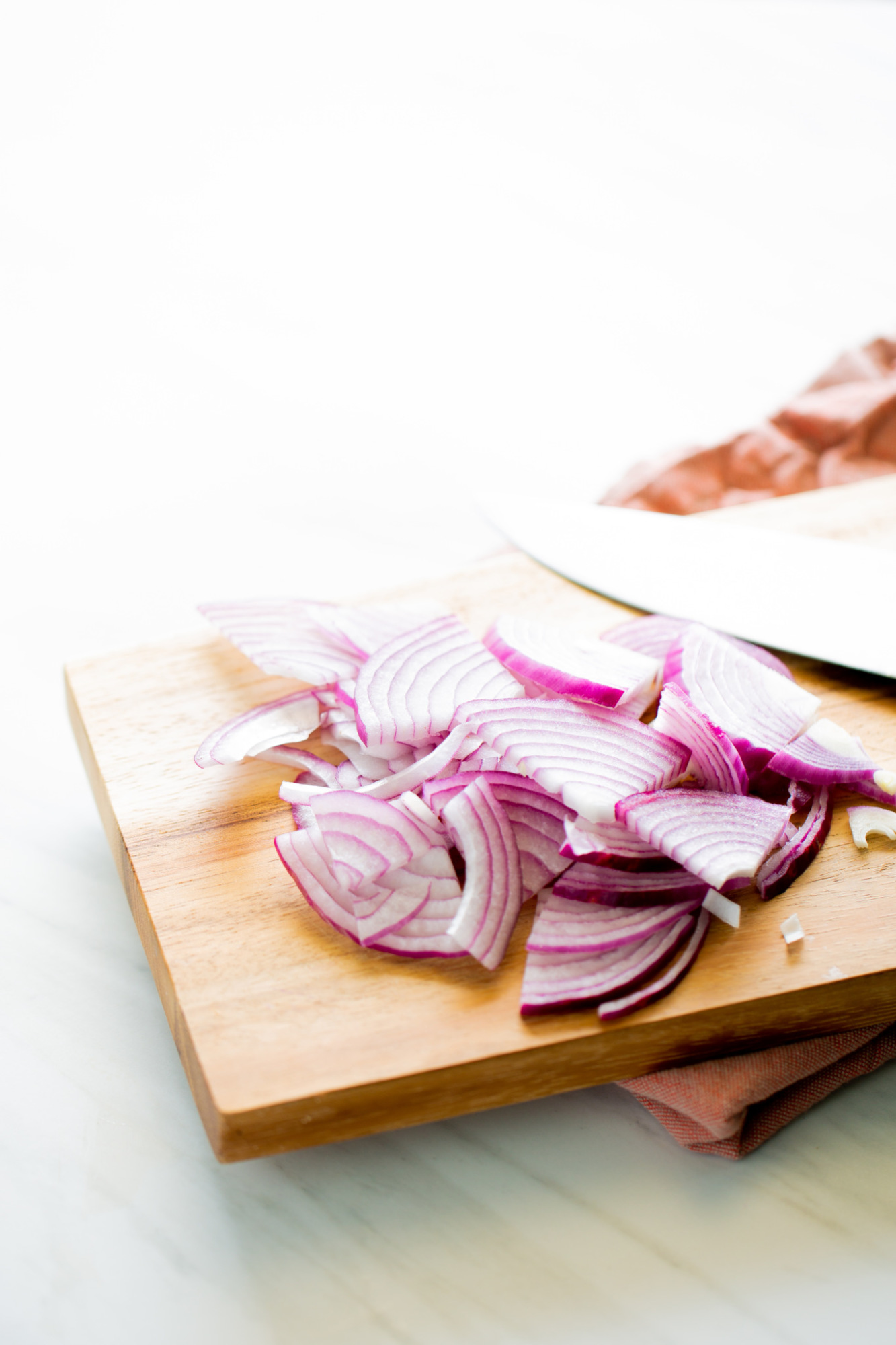 How to make Mexican pickled red onions?
Slice red onions into thin rounds.
Boil water, adding spices: Mexican oregano, bay leaf, black peppercorn, and white vinegar. If you want to get more taste out of the herbs, you can lightly toast them on a griddle (affiliate link) or saucepan. Be careful not to burn them; I recommend using low to medium heat.
When the water is boiling, turn the heat off and add the sliced red onion until they're submerged in liquid and let them cool. In some states in Mexico, they use white onion for this condiment. Use what you have on hand.
When the onions are completely cooled down, strain them and put them in a jar or glass container.
Pour lime juice; taste for seasoning. Adjust if needed with salt.
Refrigerate for at least 2 hours before use. Enjoy.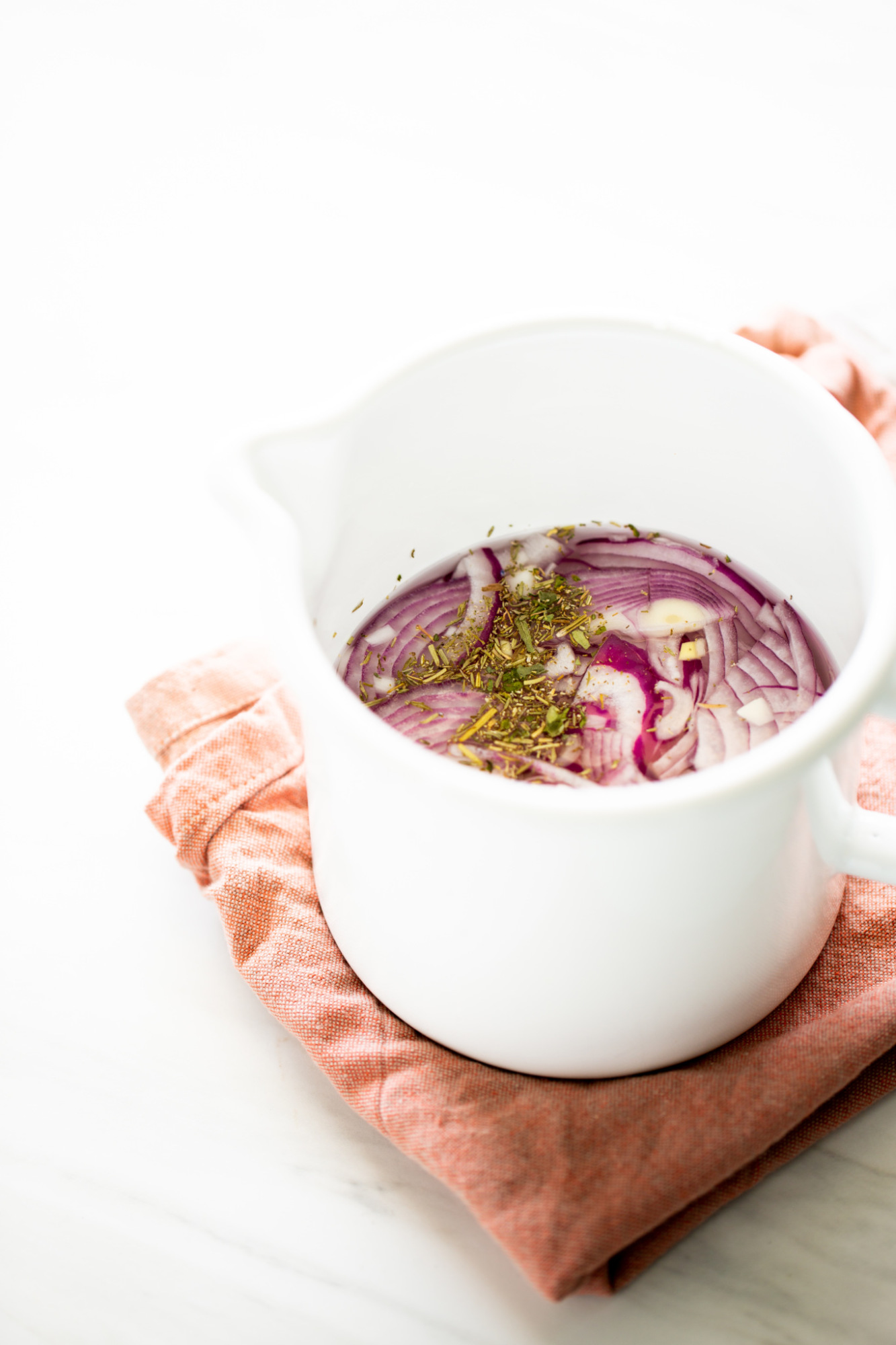 Tips and tricks to make the best Mexican pickled onions
These pickled onions are so easy to prepare, and as I told you before, just a little goes a long way. There are tons of recipes and tons of different ways to make them.
Use a glass container to store these Mexican pickled onions. Also it is best to use stainless steel, ceramic, or glass bowls to make them. This recipe has a lot of acids that could make other materials breech.
Store these pickled red onions in the refrigerator
If you don't have any white vinegar, you can also use rice vinegar, apple cider vinegar (affiliate link), or another mild vinegar
I love to use a Mexican lime/lemon squeezer. It is super effective to get all the juice out; it also makes some oils and great flavors from the peel come out.
Wait at least 30 minutes before serving them.
How long do pickled onions last?
Anywhere from 2-4 weeks when properly refrigerated. See above.
Tips and ideas on how to use this pickled red onions Mexican condiment?
They are the BEST on top of SOPES (here is a complete post on how to make sopes)
You could finish enchiladas with them.
Put them on your favorite tostadas.
They go great with these awesome vegan nachos.
Or, if you want another punch of flavor on a VEGAN CEVICHE, you could top it with the pickled onions
Or if you want just a quick salad for lunch or dinner, you can always do a quick bowl with rice, beans, greens, a yummy dressing, and these onions.
If you liked this pickles recipe, check out my Mexican Pickled Jalapeños
They also go great as burger toppers.
Other recipes that you may love:
So if you like this, please share the blog, post a picture on Instagram, Facebook, or save it for later on Pinterest. I would love to hear your comments in the comment section below, and if your rate this recipe would be great.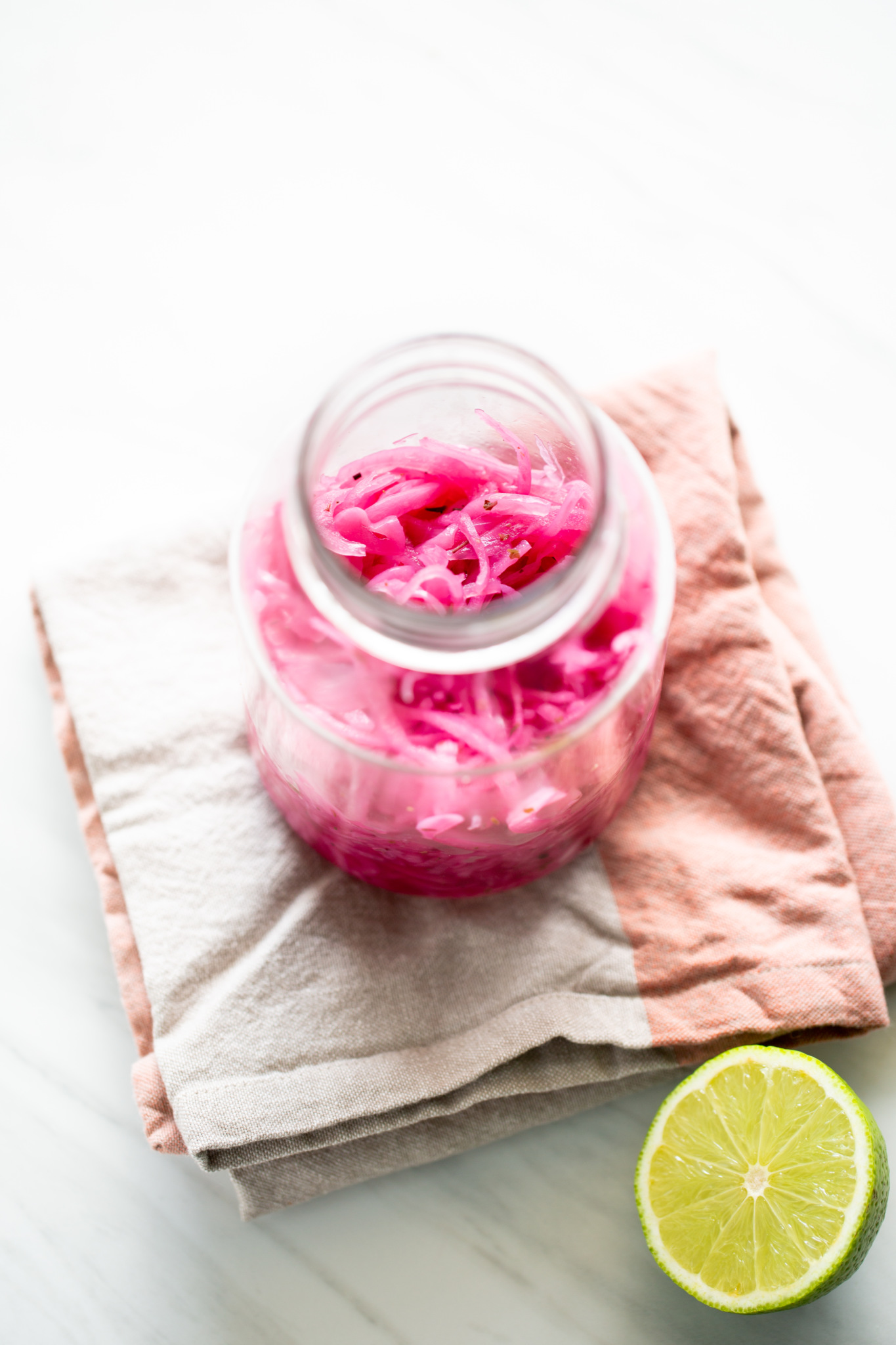 Mexican pickled red onions
This recipe for quick Mexican pickled red onions is one of my favorite things to have in the fridge. It is perfect to finish up soups, salads, sandwiches or any Mexican recipe.
Ingredientes
2

teaspoon

Mexican oregano

1

bay leave

1

teaspoon

black peppercorns

Pinch

of salt

1

cup

water

2

tablespoons

white vinegar

2

red onions

medium-sized, thinly sliced

1-2

limes

juice
Instrucciones
Boil the water with the vinegar, bay leaf, pinch of salt and oregano. When the water is boiling vigorously, turn it off and add the onions.

Let it cool completely and strain.

Add the onion into a jar or other glass container and finish with the juice of a lime and a pinch of salt. It should be a bit salty and with a good punch of the lime juice at the end.

Taste or seasoning and adjust if necessary.
Nutrition
Calorías:
67
kcal
Carbohidratos:
16
g
Proteina:
1
g
Sodio:
12
mg
Potasio:
249
mg
Fibra:
4
g
Azúcar:
5
g
Vitamina A:
35
IU
Vitamina C:
17.9
mg
Calcio:
78
mg
Hierro:
1.4
mg
information
La información nutricional de esta receta y de todas en la pagina es aproximada. Los valores exacto no están garantizados.

Últimas entradas de Alejandra Graf
(ver todo)